Discover more from Hatchomatic
Musings on life, travel, pets, woodworking... whatever.
One of my favorite memories as a child is being in the garden with my mom. Gardening was one of many things my mother excelled at, and I can still remember picking sun-ripe tomatoes and eating them on the spot as if they were apples. Whatever we managed to get inside without eating, we'd slice up and sprinkle with salt and then quickly devour. The saltiness perfectly balanced the sweet acidity of the red, juicy fruit. A ripe, garden-fresh tomato is the official taste of summer. No question.
Not yet a subscriber? Sign up for free and get these posts delivered directly to your email inbox.
Other times, we'd pick ears of corn and race to cook them before any sugar turned to starch. The white and yellow kernels of the "butter-and-sugar" variety we grew barely needed to be cooked, actually — just enough to soften the kernels. We'd slather on fresh butter, salt and pepper and I'd eat the ears as if I were a typewriter carriage. Munch, much, munch, ding! Next row; munch, munch, munch, ding! Next row.
Since leaving Ohio, I've wanted to resurrect those childhood memories and, if possible, share them with my daughter. Over the years, be it though a friend's garden that I'd help with, or an inconvenient community garden that I failed to be sufficiently attentive to, or garden plots I was able to squeeze into small backyards, I grew peas, which my daughter loved, or lettuces or herbs or whatever I could get to grow in pots. All well and good, but not the same.
So when we finally landed at Broad Run, I had plenty of space to create a garden worthy of my mom's memory. Maybe, too much space.
Greenhouse and Raised Beds
The effort began shortly after we moved in with a greenhouse I bought Cynthia and seven 4x8 beds I built out of some reclaimed 4x4 lumber. In an area just a few steps from the house, we grew cucumbers, lettuces, tomatoes, corn (that got destroyed in a storm), basil, okra, peas and a few other items. Most did all right, though I realized throughout the year that the surrounding trees cast more shade than I had realized. Each bed probably got 6 hours of sun a day. Not bad, but not as much as some veggies would like.
Nevertheless, even through the winter months, I was able to grow various lettuces, spinach and even carrots in the greenhouse. They were tender and delicious, but I was also growing plans for something far more ambitious.
In flats and small pots, I planted dozens of seeds: tomatoes of various varieties, cucumbers, pumpkins, squash, zucchinis, okra, beans, beets, celery, onions, cabbage, Brussels sprouts, peppers, tomatillos, watermelons and more. I let the seeds sprout in the greenhouse and kept watch over them — with varying degrees of success — until they were ready to plant.
Let a Garden Be Born
Meanwhile, a few hundred yards from the house lay a flat, sun-soaked field that was ideal for a large garden. Last year, I had laid down a thick plastic tarp over a roughly 40-by-60-foot area — plenty of room to grow whatever I'd like, right? — to kill the grass. I let that sit for about six months.
Finally, this spring, I pulled back the tarp to reveal a thick mat of dead grass. Using a tiller, I ground the dead grass into the soil and nodded approvingly at the crumbly brown dirt that laid ready for planting.
Before I could release the seedlings, though, I knew I needed a fence to keep deer and other critters at bay. While I had designs on a beautiful wooden fence, I had neither the time nor the budget to make that happen quickly enough for the seedlings. Instead, with a friend's help, I drove a dozen T-stakes into the ground around the perimeter and stretched lines of electric fencing around them.
I actually did this as a so-called 3D fence. Instead of one set of T-stakes with three lines on it, I have two sets of T-stakes — one inset about three feet from the other. The outer stakes have one line about waist high, while the inner set has two lines — one about shin-high and the other about chest-high.
Even though deer can easily jump a six-foot fence, my having two sets of fencing a few feet apart messes with the deer's depth perception and keeps them from getting into the garden. I was skeptical at first, but after a season of success, I'm a believer now.
With the electric fence in place, I could plant the seedlings.
I wish I could tell you that sprouting seeds was a simple affair. Alas, it was not. First, some of the seeded flats never sprouted. Had I watered them too much? Judging from the moldy seeds I found during my floral autopsy, I'd say so.
A second batch of seedlings also failed. Had I overcorrected and watered them too sparingly? Likely.
Another batch of seedlings seemed to be going well until a squirrel accidentally got trapped in the greenhouse where the plants were. Trapped squirrels are not happy squirrels, and unhappy squirrels are not calm squirrels. I managed to get the squirrel out, but not before he or she tore up all of the plants and tossed them onto the ground.
Eventually I managed to get a critical mass of seedlings sprouted and ready to transplant. In the big garden, I carefully dug a whole for each seeding, tossed in a handful of compost and another of fertilizer, and set them in their new homes. In addition to the seedlings I grew, I also planted, with my daughter's help, several dozen seed potatoes, a few seedlings I picked up at a nearby nursery, and direct-sowed seeds for other veggies.
I stretched 600 feet of hose from the house to the garden and gave the plants and seeds a healthy watering.
The Waiting Game
Some of the seedlings took off immediately. Broccoli grew to an enormous size. Tomato plants doubled their height within a week or two. Little lines of cabbage leaves emerged from the soil. Robust, deep green potato sprouts shot up within days.
Yet, in retrospect, I was already making mistakes. I should have caged and staked the tomatoes immediately. By the time I got to it, they were already too gangly and intertwined to property support. And I should have covered the cabbage and Brussels sprouts and broccoli to keep worms off them, but I didn't and their leaves were irreversibly damaged and looked like Swiss cheese. I also wish I had installed raised beds to make it easier to keep things organized and know where to walk. All mistakes I could correct in future seasons.
Meanwhile, as the summer days lengthened, the garden grew. Tiny watermelons appeared. Green tomatoes dangled from their sinuousy vines. My failure to cover the sprouts, cabbage and broccoli couldn't be overcome. Even though sprays were moderately helpful, the damage was too late to reverse and the plants never fully developed.
Nevertheless, I was pleased. I wanted to grow not just enough for my wife and me, but enough to give food away to others. My plan seemed to be working.
Then again, just a few plants can produce an awful lot of food. And keeping up with weeding proved impossible, at least with the time I had available. Was this too much? Did I really need more than 2,400 square feet of garden? Was that a bit excessive? Most of the plants were thriving and producing and soon I'd be overwhelmed with vegetables.
Harvest By The Dozen
In June, while many of the plants were setting roots and unfurling new leaves, the lettuces, spinaches and radishes in the upper garden bolted and were ready to be pulled. Meanwhile, the sugar snap peas were coming on strong.
By July, new zucchinis were appearing daily and growing to cricket-bat proportions if I didn't pick them quickly enough. Cherry tomatoes ripened by the score. I ate them by the handful — bursts of warm, liquid sunshine filling my mouth. I dug up dozens of potatoes and put them in a dark, cool basement for storage. Well-camouflaged cucumbers were hiding in plain sight — always another one dangling amongst the foliage. Many found their way into dill-and-garlic soaked brine where they'd transform into half sours. Beets found themselves roasted and devoured days after picking. It was a lot of food, but that's what I wanted, right?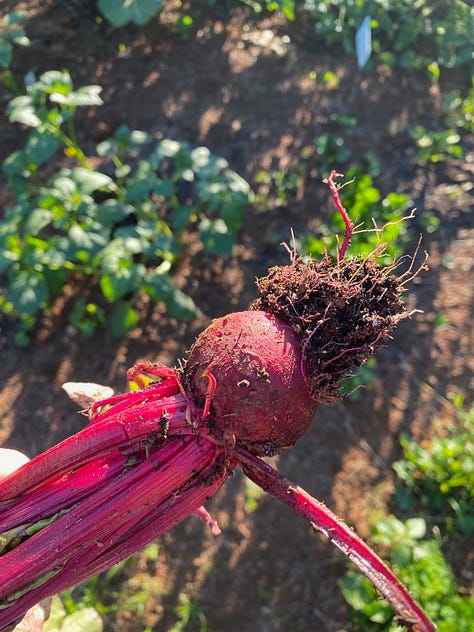 In August, the pace of zucchini growth increased exponentially. Every couple of days I'd have four or five new zucchinis to pick. Tomatoes picked up the pace as well. If I visited the garden without a bucket or two, I quickly regretted it. Within a few minutes in the garden, I'd have picked enough items to fill a five-gallon bucket and then some. Often, I needed to bring the tractor and trailer down in order to lug the pounds of freshly-picked produce back to the house.
It begged a question others were asking me — did I have a farm? On the one hand, I'm surrounded by actual farm land that grows crops for commercial purposes. I mean, thousands of acres requiring industrial machines and hired help. I certainly didn't have that. But I was producing a prodigious amount of food — far more than I can handle. Call it a garden that was getting out of hand.
As the big tomatoes ripened, my knives got to cutting. Sliced thick and layered with mayo, bacon, fresh lettuce and toasted wheat bread — a BLT may be humanity's perfect sandwich — their meaty juiciness perfectly complemented the salty pork and creamy mayo. Or salted and paired with fresh mozzarella, or mixed with jalapeños and onions and lime juice as a salsa, or with garlic and basic and olive oil as a bruschetta — is there anything better?
And yet, somehow, they didn't quite meet my memory's standards. A failure of tomato? Of expectations? Maybe everything tastes not quite as good when mom is gone? Hard to say.
Then again, I'm still pleased that even as the harvest winds down, I still have four jars I canned to help me get through winter. Anything is better than a store-bought tomato.
Meanwhile, visitors found themselves leaving our house with vegetables whether they wanted them or not. Or if I visited family or friends, they'd find fresh produce left behind, regardless of their need or desire. Once a week, I'd schlepp several bags of tomatoes, okra, potatoes, zucchinis, cucumbers and other items — watermelons, even! — to my office in hopes that colleagues would spare me the pain of throwing them away or, worse, taking them back home. Thankfully, they fulfilled their duty. I even took to making fresh dog food with items that otherwise would go bad. The puppy was quite ok with that.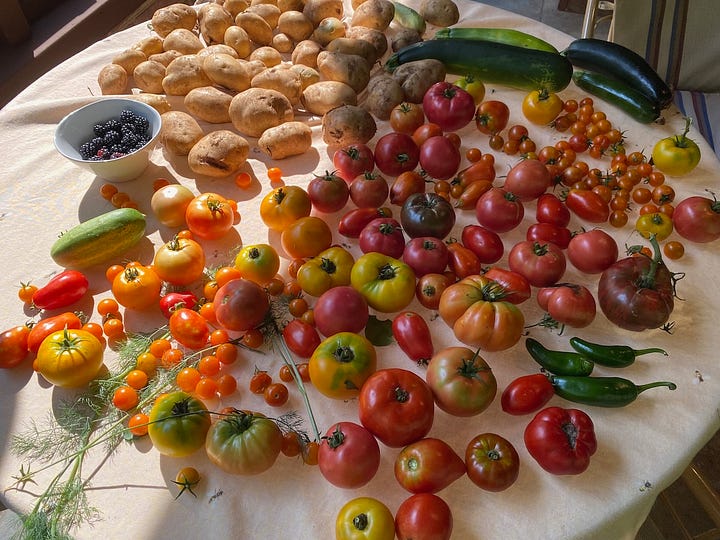 Now, in early September, the garden is winding down, though hardly finished. Today I picked more than 30 butternut squash. I still have several lovely watermelons, at least 10 pumpkins, a row of onions, another of horseradish, more peppers, gourds, and other things, but most of the plants are beginning to die back and slow down. Aren't we all?
Planning for Rebirth
Even as I try to figure out what to do with the produce still coming in, I'm looking ahead to next year. Soon it will be time (if it's not already past time) to send greens to the compost bin, sow seeds for the winter greenhouse, and plant autumn crops of lettuces, kale, garlic, cabbage, and other things. Those tasks and more are already on my to-do list.
Maybe I'll remake my raised beds. I wouldn't mind them a little higher and a little bigger. Instead of big 4x4 posts, maybe I'll remake them in cedar. I wouldn't mind putting raised beds in the big garden, too. It'll certainly make it easier to manage (I think). Could I install drip irrigation? How about erecting that wooden fence and adding a gate and a trellis with winding vines of wisteria?
We'll see. For now I'm trying to stay in the moment; be content to simply stand in the garden, pop a tomato in my mouth, think of my mom, watch the butterflies visit the okra flowers. Appreciate what the sun and the rain and soil have created: tomatoes by the thousands, sweet, sun-ripened watermelons, and construction-grade zucchinis.
Soon I'll pick the autumn-shaded pumpkins and mix them with eggs and sugar and milk for pie. Then the snow will fall and the garden will go dormant. Until next year.