Discover more from Hatchomatic
Musings on life, travel, pets, woodworking... whatever.
Sammy's Amazing Race
The birthday parties I remember when I was a kid weren't the ones where I was getting the presents. I'm sure I had delightful birthdays, but the ones I really remembered and most enjoyed were the ones for my friend, Rogan.
Rogan's parents are geniuses. His dad was a professor at Kent State University, and with Rogan's mom, they arranged the most fun, delightful and creative birthdays imaginable. They tended to be elaborate games that were some combination of Capture the Flag, an off road biking adventure, food fight, and Lord of the Flies. More than 30 years later, I still remember and treasure those parties and the resulting scars.
I've tried to give my daughter the same kinds of birthdays. Some have hit the mark, others not so much. But two weekends ago, we had what I'd call one of the better birthdays. We called it "Sammy's Amazing Race."
As the name suggests, we based the game on the CBS show, "The Amazing Race," which Sammy and I consider appointment television. Yes, it's a reality show, but it's also great fun and quite good. In it, 12 teams race around the world completing various physical, mental, social and other tasks. Teams are eliminated as the season progresses, with the ultimate winner taking home $1 million.
We translated the show to make it appropriate for 11-year-old girls and a modest household budget.
We started the race by breaking the eight girls up into four teams of two. Upon opening their first clue, they learned that they had to find and put on their shoes, but with a catch. The girls couldn't touch their own shoes with their hands. They had to put on their partner's shoes for them.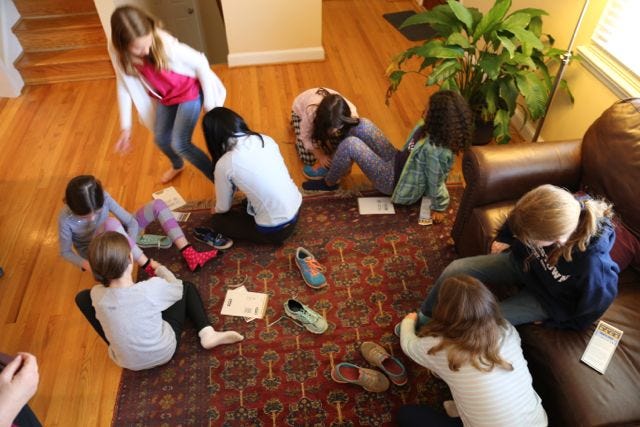 Girls who wore slip-ons to the party had a built-in advantage
Once their shoes were on, it was time to run uphill several blocks to the nearby middle school and get their second clue.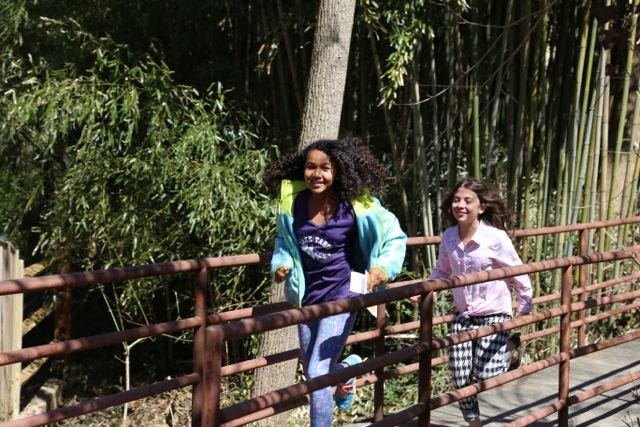 Off to a running start
Huffing and puffing, they ripped open clue number two, only to discover they had to run back to the house. "This is so unfair!" one girl (ok, it was Sammy) cried out in between deep breaths and holding her side to alleviate the pain of the stitch in her side.
Back at the house, the girls discovered a table of roughly 200 Dixie cups, each containing several Goldfish crackers or M&M candies.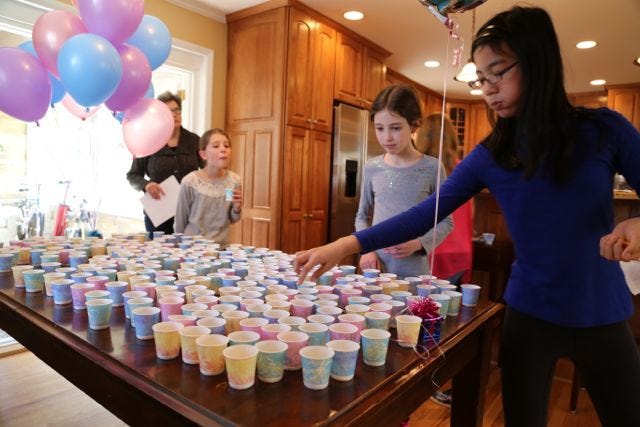 Suddenly Goldfish and M&M's don't seem so yummy
The girls had to find a cup with a little smiley face on the bottom. The catch? Every time they touched a cup, they had to eat the contents of it. There were roughly 10 cups with smiley faces, so there was a 1-in-20 chance they'd find a winner. After all that running, and upon failing to find a winning cup, the treats quickly lost their appeal. Barf bags were standing by, but thankfully went unused.
Once a smiley face was found, it was time for their next clue, which sent them back outside.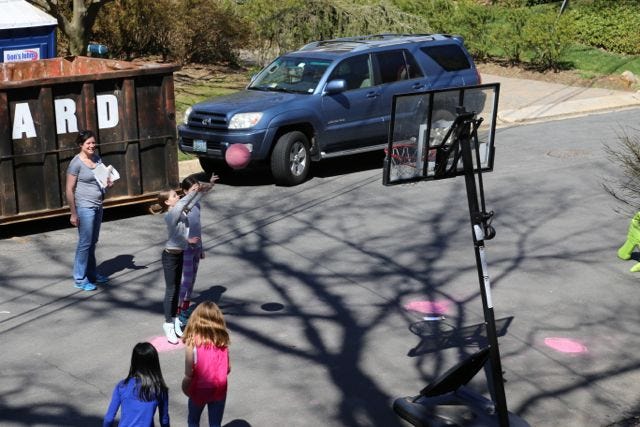 Shoot, score!
The third challenge presented the racers with a choice: "big" or "small." Teams that chose "big" had to shoot three baskets, per girl, from marked spots on the pavement. Teams who chose "small," had to hold a plastic spoon in their mouths, put a golf ball on the spoon, and run a course without dropping the golf ball. Drop it, and they'd have to start over. Every team chose "big," sunk their shots and got their next clue.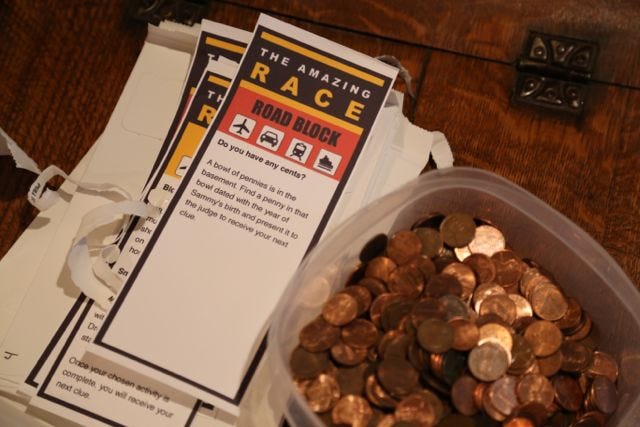 A "change" of pace
The challenge back inside was one of patience. Digging through $10 worth of pennies — that's 1,000 coins — the girls had to find a penny with the date of Sammy's birth (2003). In my test of this challenge, I found roughly five matches out of the thousand pennies. To give the girls a fighting chance, once a 2003 penny was found, it was recycled back into the container.
Then came the best challenge of them all.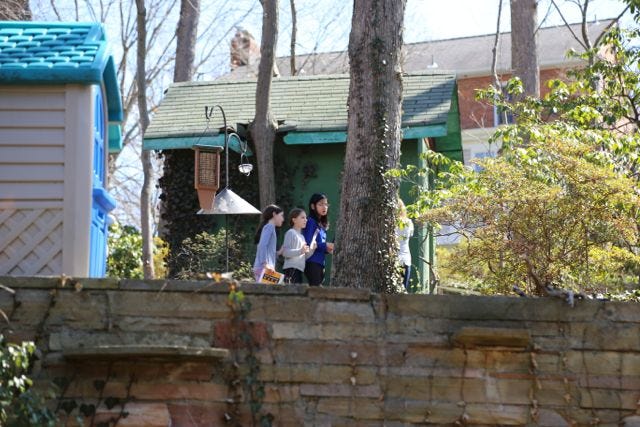 Poetry in motion
The task here was for girls to find a poem tacked to a tree in the back yard, memorize it, and then recite it — perfectly — to Sammy's Aunt Deb. This was delightfully difficult.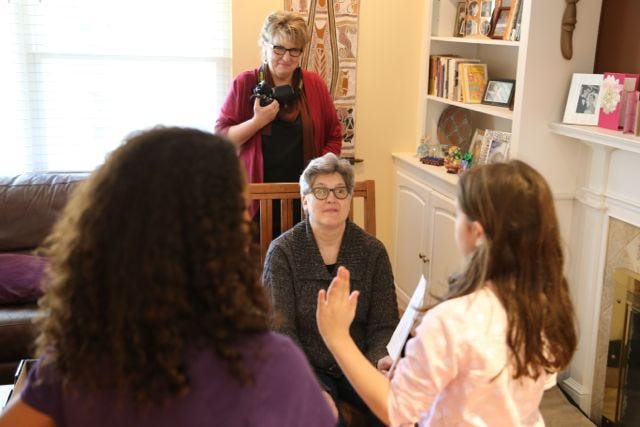 Reciting a poem is hard; doing it under pressure is really hard
It took some teams dozens of attempts to get the poem right. What was the poem, you ask? It was Shel Silverstein's "Spaghetti."
Spaghetti, spaghetti, all over the place, Up to my elbows--up to my face, Over the carpet and under the chairs, Into the hammock and wound round the stairs, Filling the bathtub and covering the desk, Making the sofa a mad mushy mess.
The party is ruined, I'm terribly worried, The guests have all left (unless they're all buried). I told them, "Bring presents." I said, "Throw confettii." I guess they heard wrong 'Cause they all threw spaghetti! The girls would get close, and then...
Oh, so close!
… Bzzzt!
See for yourself:
https://vimeo.com/92040045
Next up was a brain teaser of a different sort. The teams were given another choice: 2D or 3D. Teams that picked "2D" had to put together a 100-piece puzzle. Teams that chose "3D" had to build a Lego model to match one that was already made. They couldn't follow any instructions or take the model apart.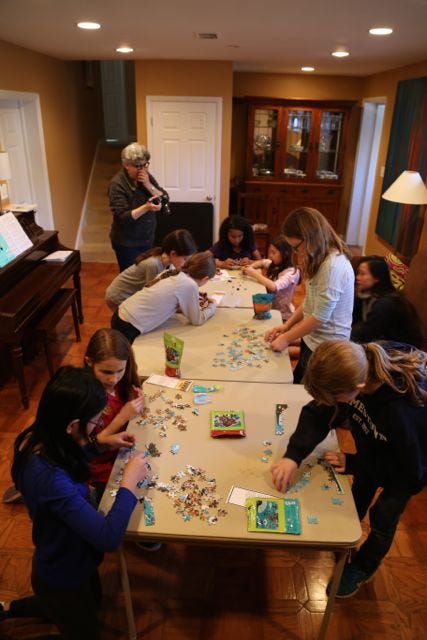 How many dimensions is too many?
It took a lot of concentration.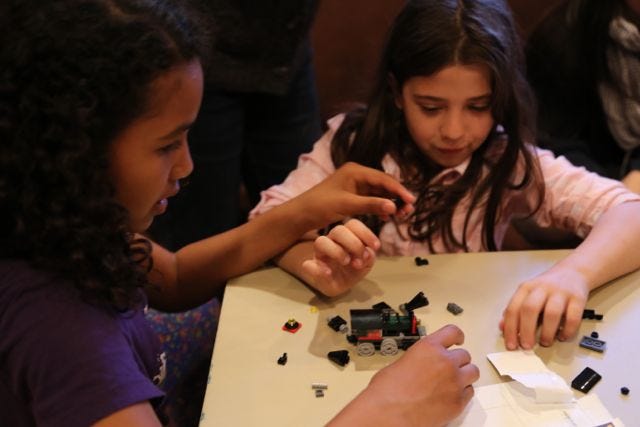 Lego engineers at work
Once the puzzle or model was assembled correctly, it was time to go back outside.
The next clue sent them back to the pavement where they had to think more broadly — much more broadly. They had to use sidewalk chalk to accurately draw and label the solar system.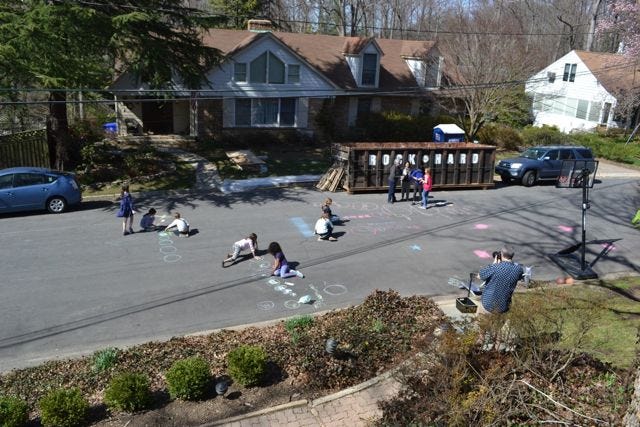 Mapping the solar system (the answer is just overhead)
Most of the girls had the solar system close, but would forget to put the rings around Saturn, or would put Neptune before Uranus. But one girl nailed it right out of the gate. As soon as she was "approved," the others looked at what she did and copied it in order to advance.
With the solar system set, it was time to go back inside and teach an old dog an old trick.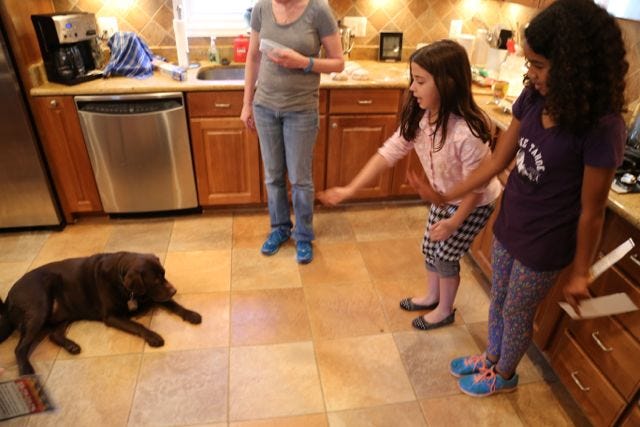 Even Milo enjoyed this birthday, with lots of attention — and treats
In this task, the girls had to get Sammy's dog, Milo, to sit and then lie down. The girls would put a treat in front of him and then make him stay for 30 seconds. After 30 seconds, Milo was allowed to eat the treat. If Milo didn't wait, the girls had to do it all over again.
Milo's a pretty smart dog and grasped the challenge about as fast as the girls did, so he was happy to oblige even before he was told what to do.
Once Milo was "trained up," the girls got their next clue. It presented them with another choice: "shake it," or "be still." In "shake it," the girls had to each use a Hula Hoop for 60 seconds without it touching the floor. In "be still," the girls had to build a tower out of planks.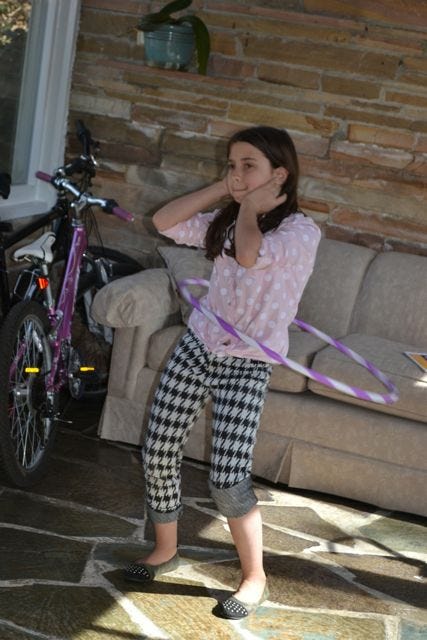 Shaking it!
The Hula Hoop attracted a number of teams, but none could maintain the required 60 seconds per girl. They all ended up building the precarious towers.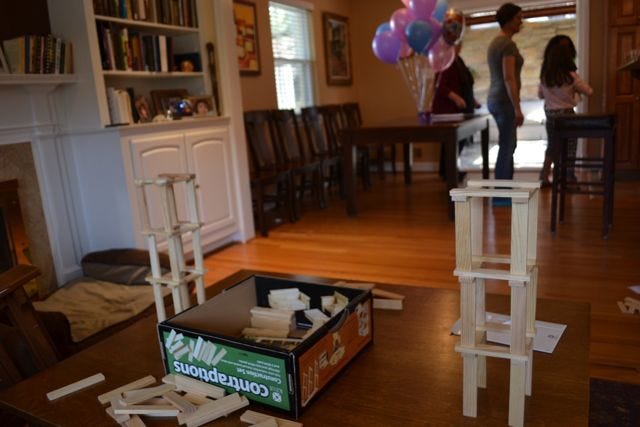 Tower power
With their towers approved, the girls headed into the home stretch. The second-to-last challenge was to make their pizzas. After washing up, they got their hands on the only dough in this game.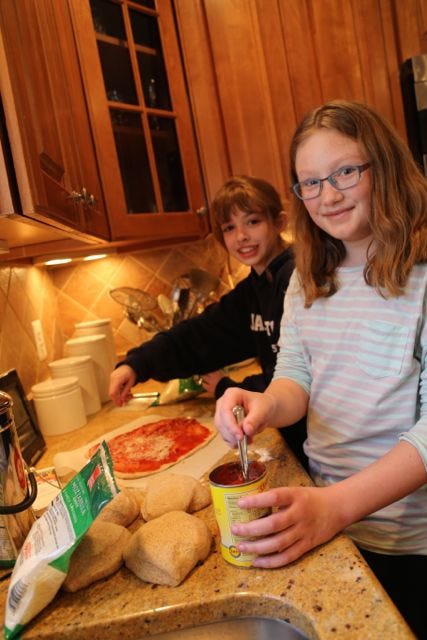 Pizza party coming up
Given that the girls were in a hurry, it's not surprising that the results were a little uneven, though still plenty delicious.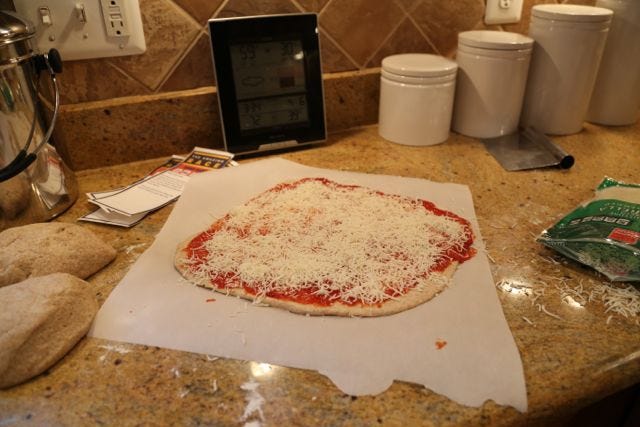 Tasty, if not pretty
With the food prepped, the girls headed for their final task. Upstairs, the girls needed to make movie posters for their race partners.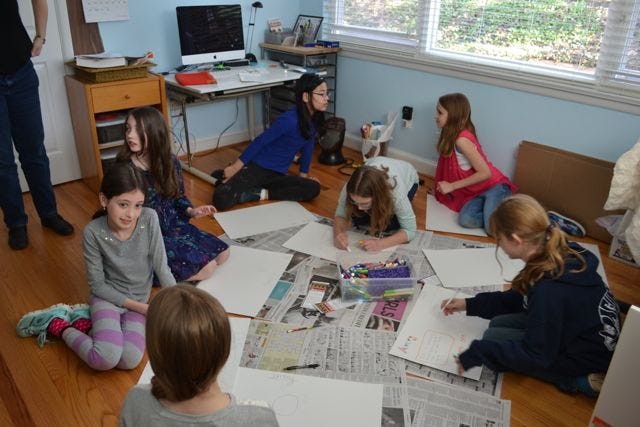 Poster mania
Art doesn't like to be rushed, but these girls were in a hurry. Once their posters were "approved," it was a mad dash for the finish line, where the prizes waited to be claimed.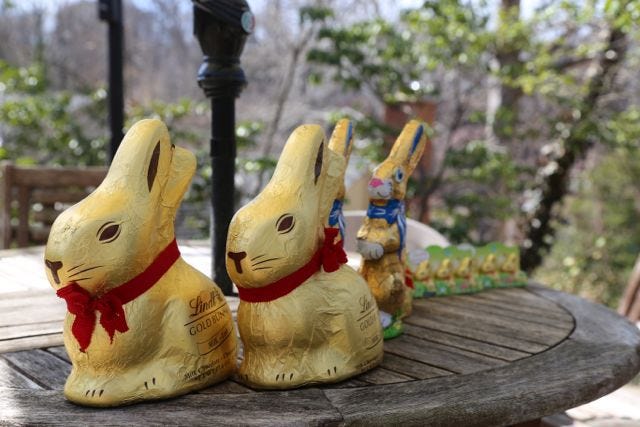 Chocolate bunnies lined up and waiting to be claimed
First to the mat, Avery and Abby:
https://vimeo.com/92041887
Shortly after the winners came the second-, third- and fourth-place teams, claiming their proportionately sized victory bunnies.
Winners!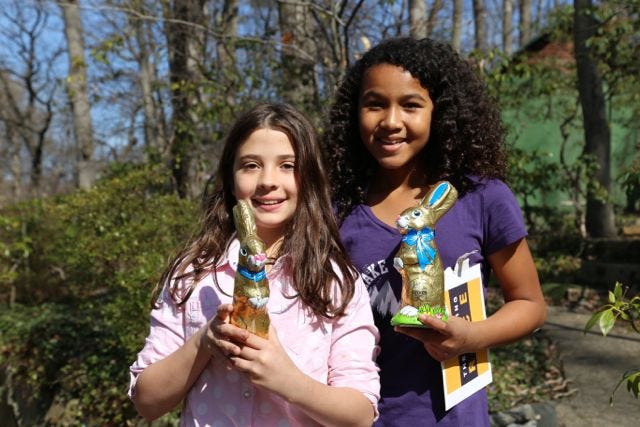 Second place
Third place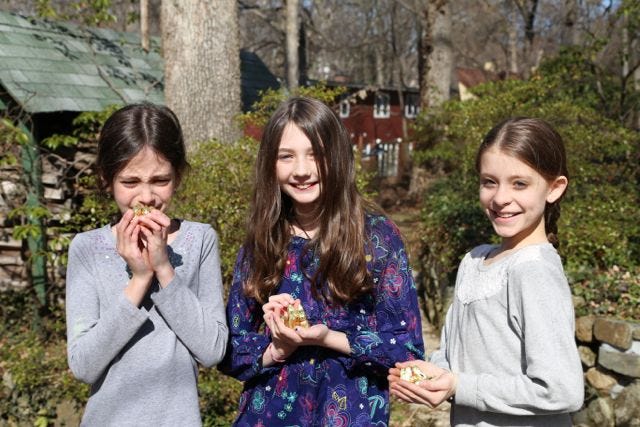 Fourth place
Then it was time for pizza, cake and presents.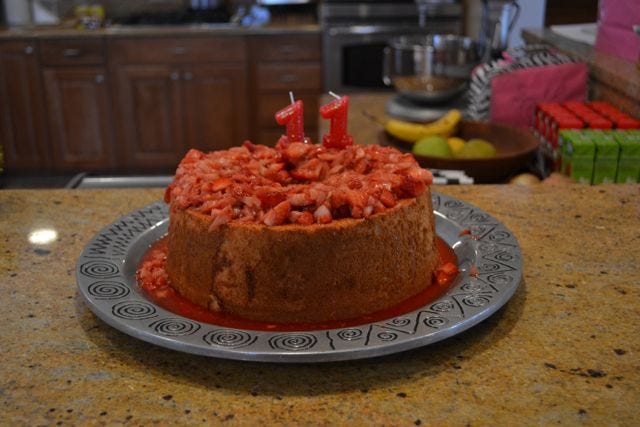 It's not a party without cake
Now it's time to begin work on her 12th birthday party.
Update, April 15, 2:54 p.m.: I had initially credited only my friend's father for the birthday party inspiration. I've updated the post to also give proper credit to his mother.