Discover more from Hatchomatic
Musings on life, travel, pets, woodworking... whatever.
Reprising the past -- USA road trip, day 1
Going to Thailand reminded me of the three-week trip around the country my wife and I took some years back -- 2000, if memory serves.
I kept a blog of that trip, too, although blogs were hardly common then (and I didn't call it such). It was more like an e-mail newsletter from the road.
Anyway, I thought I'd post that travel journal, in parts, here. Just for fun.
Day 1
Well, we got the car packed, the cats confined to the upstairs bathroom (thank you cat sitters!), and finally left D.C. at about 3:15 p.m. (mileage: 23,109) only to quickly become embroiled in rush "hour" traffic, which in Washington runs from 6 a.m. to 11 p.m.
As we drove along the George Washington Parkway (the most visited national park in America, by the way), we pulled over at a scenic overlook where an Indian family was eating naan and yogurt as traffic whirled by. We quickly took in the view of the Potomac and then got back on the road where for the next two hours, traffic crawled.
In Maryland, we stopped at another scenic scene, the site of the "Battle that Saved Washington." The landscape features lush, green countryside, picturesque farms, and frightening pickup-truck-driving mullet-stylin' Marylander men. OK, that's kind of mean, but they were giving me the "eye," so we scampered back to the car and hit the road.
Moving right along, we touched down at our first Roadfood location. Roadfood is a book by Jane and Michael Stern listing, as they say, "500 of the best Barbecue Joints, Lobster Shacks, Ice Cream Parlors, Highway Diners, & Much More." We stopped at "Park and Dine" in Hancock, Md. I think it falls into the "Much More" category.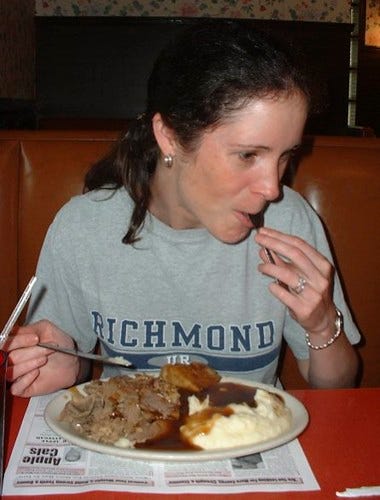 About 60 cars and trucks had parked outside the restaurant (initially a small Texaco filling station with a small diner attached to it), which sports three dining rooms, all with brand new carpeting laid just last week. Everything was brown  the carpet, the cups, the walls, the food...
We ventured in and were offered the choice of the "Hostess will Seat You" section, or the "Seat Yourself" section. We seated ourselves. Jez, a Hancock native of about 17, was our server. Our food was wet. My veggies were hidden under a thick layer of cheese, my pork chops swam in thick mushroom gravy, and my mashed potatoes formed a crater lake for the ladle-load of brown, mostly tasteless gravy. It was heavenly. The whole meal weighed about three pounds and after eating it (and the roll) I had gained five. The homemade blueberry pie and vanilla ice cream very nicely rounded out the meal along with a cup of bitter coffee. The whole meal cost less than a tank of gas.
To the amusement of Jez, I took photos and showed Cynthia how miniature cereal boxes are designed to double as built-in bowls (they have serrated cut lines allowing the breakfaster to simply slice the back of the box and pour in the milk). It was news to Jez as well, who made the astute comment, "you're weird."
Meanwhile, Cynthia found amusement in the bathroom when a woman who was ashamed of the noise the body makes tried to cover it up with coughing. The only problem was that she never was able to muster a cough in time.
Ok, back to the dinner table. When it came time to pay, I asked Jez if I should pay her, or pay at the front. She said I could pay her, so I gave Jez my credit card, to which she replied, "I think you have to sign with these, and I can't sign for ya, so maybe you should just pay at the front." All righty...
It was then onto the Pa. turnpike where we experienced a wide variety of weather  fog, thunderstorms, massive lightning bolts, rain cascading so hard we couldn't see more than 15 feet, and beautiful clear skies. We finally made it to Kent, Ohio and settled in for the night.