Discover more from Hatchomatic
Musings on life, travel, pets, woodworking... whatever.
Reliving America... 2000 Road Trip, Day 3
Day 3
Resuming the next morning, we headed to Madison for a late breakfast. We enjoyed briefly exploring Madison and taking in the "Cleveland Diner" tucked away under the shadow of the capital building.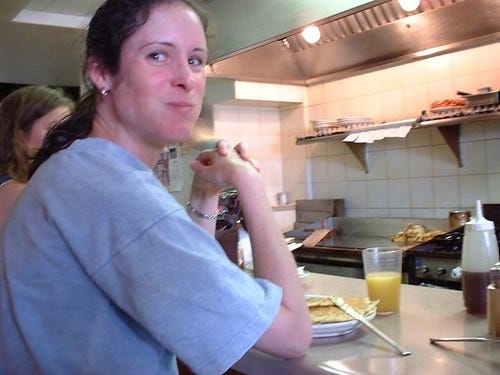 Back on the road, we bypassed the "Cheese, Gifts and Liquor" store, much to my regret. Wisconsin's terrain was interesting... beautiful rolling hills of tilled crops, giving away towards the western edge to heavy pine timber. We pulled into a small town on the western edge and enjoyed some frozen custard (an 80-cent cone was more than enough for both of us). The cheese and meat store next to it was, however, closed.
Upon crossing the Mississippi River, we climbed into Minnesota and sped along mostly flat farmland. One interesting (to me) note about Minnesota is how few billboards there were. In fact, I'm not sure there were any. This really hit home upon entering South Dakota, where billboards are as common as cattle, or seem to be at any rate.
Minnesota flew past, thanks largely to a lack of traffic and a 70 MPH speed limit. This was even truer in South Dakota where the land is flat, the roads are straight, and the posted speed limit is 75. That does cause a problem for prairie dogs, though. As we sped along the highway, a prairie dog scampered across the road headed for my right front wheel. I swerved slightly and managed to somehow straddle the pup and somehow miss him. From my rear view mirror, I saw him finish his heart-stopping journey in the median strip.
I had really been looking forward to Tea Steak House in Tea, South Dakota, the only Roadfood destination in S.D. Sadly for us, being Sunday, it was closed. We settled for something we hoped to avoid... fast food in Souix Falls. However, it was, at least, only a regional chain: Taco John's. Still, it was terrible.
Eastern South Dakota's landscape is mostly flat with more farmland. Except, instead of corn, there is cattle. Cattle and billboards. The two most common billboards are for Wall Drug (I lost count after 50 of them) and Corn Palace... a building made from corn (more or less). More than 20 billboards tout this majestic palace, and it's worth visiting. During the winter, Corn Palace is home the high school basketball team, graduation ceremonies, and other civic events. In the summer, it is filled with a gigantic gift shop.
At least 2,000 people visit Corn Palace each day, and since the town it is in as only 13,000 residents, each week more people file in to see this building than the number of people who live there.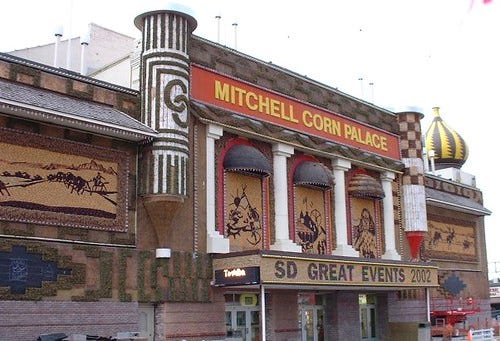 Most astonishing of all, the teenagers who work there didn't seem at all sullen about it. I was in awe.
I said Eastern S.D. is mostly flat, but every once in a while an amazing grassy gorge or outcropping of rocks upsets the smooth terrain. The effect is quite beautiful. I expect this to be more obvious when we reach the Badlands and Black Hills tomorrow. Equally mesmerizing are the weather patterns one can watch develop. A thunderstorm several miles to our north played out as the sun set. Lightning and rain showed themselves broadside without ever nearing us. It was beautiful. I secretly hoped a tornado would spin together so I could get a picture. I guess it's just as well that didn't happen.
Well, we're in for another night.
Josh and Cynthia (mileage: 24,437)