Discover more from Hatchomatic
Musings on life, travel, pets, woodworking... whatever.
Or... How to waste $30
Returning to Hawaii for a moment (ahhh...). Oh, how I wish that were true. But at least in terms of this post, let's get in the way-back machine. On the second-to-last day, Cyn and I went kayaking. I risked taking the camera and an expensive borrowed lens on the ocean cuise the previous day, but taking it kayaking seemed too dangerous. So when we signed up for the trip, I spied the underwater film cameras.
Having used one before, specifically when I was at the great barrier reef in Australia, I knew it wasn't worth doing. Those lousy things take terrible photos.
But then... what about documenting the voyage? What about the sights? The memories.
So I did it. I took $30 and flushed it down the toilet.
Well, not quite. I paid something like $18 for the camera and another $13 to process the film. So, $31. And change. The results? Ugh. As it happens, I should have brought my camera. The kayaks were sturdy, there were substantial dry bags, and the shots would have been lovely. Then again, there were a couple of wet pics here that are fun.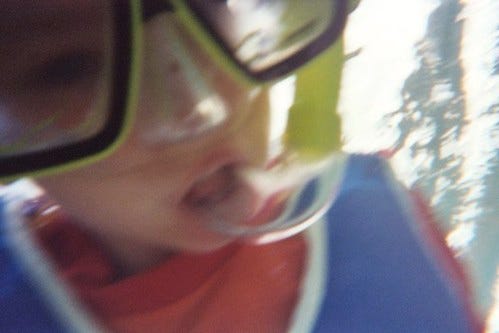 The above shot is probably among the best. That's Ryan, Sammy's cousin, giving snorkeling a try. He didn't really take to it. Here are some other photos for your amusement: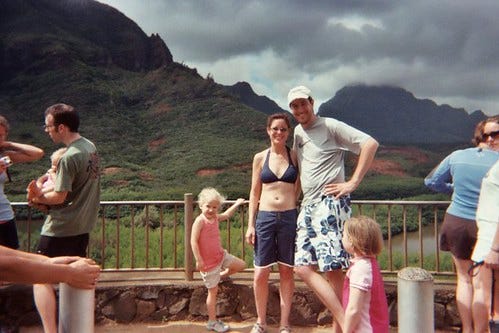 Here are Cyn and me standing over an ancient fish pond on our way kayaking, which we did the day before we left. (Note to self: no more doughnuts.)
What's kind of cool is that these photos already look like they are 50 years old, especially this one of Cam, Ryan and Sammy: