Discover more from Hatchomatic
Musings on life, travel, pets, woodworking... whatever.
On the road, day 12
I promise to wrap up this warped series soon: (Note, this post is perfect for "Talk Like a Pirate Day!")
Day 12
This morning we spent a few hours baking under a 114° sun by the pool. It fried my brain and I don't remember anything else until I somehow managed to find myself behind the wheel of the car driving to Hoover Dam.
Actually, I do remember several things about the pool: nearly all of the waitresses, clad in fairly revealing swimsuits, had similar attributes, about chest high. Mandalay Bay, the resort where we are staying, has several pool options: a wave pool that was engineered incorrectly -- it's waves were so strong that people were getting knocked against the concrete barriers, so they toned down the waves, which meekly come about once a minute; a flowing river... basically a ring-shaped pool that has a current; and several standard pools, none of which feature a deep end or a diving board.
Beyond that, though, there's not much to say. After a shower and some lunch, we made it to Hoover Dam, a 20-minute drive from Vegas. Unfortunately, out-of-date guidebooks had old information about the tour times, and we got there after the final tour of the Dam. So, we walked from Nevada to Arizona and back, took in the massive size of the Dam, got some ice cream, and returned to the road. We then visited a chocolate factory where, supposedly, M&Ms and Mars Bars were invented.
It was then on to the Treasure Island casino where were drank strawberry daiquiris and watched a mock battle between pirates and the English. Yes, in front of the hotel there is a giant pool with two tall ships, one a pirate vessel and one an English boat. After a little cannon action and some flames (much appreciated, since it had cooled to nearly 105° by then), the English vessel sank.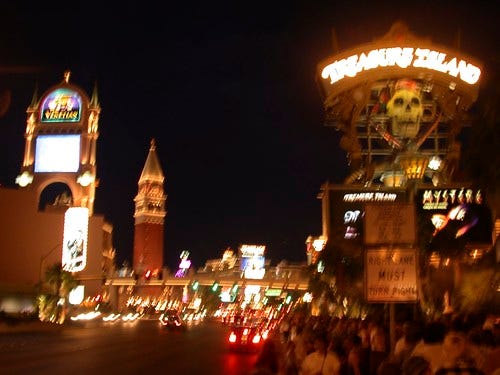 After the kids went to sleep, my brother, cousin, and I returned to the casino floor where I turned my remaining ten dollars in chips into $20, and then turned that into zero dollars. With a few nickels, I played slots and won back $15... woohoo! A woman sitting next to me couldn't believe it. "I was just playing that machine!" When she found out I had put in only a single nickel instead of maxing out the bet with three or five nickels, she was apoplectic, getting up and walking away. I could hear her tell a friend, "He put in one nickel! Can you believe that? One nickel!" If I had maxed the bet with 15 cents, I would have won $75. Oh well.