Discover more from Hatchomatic
Musings on life, travel, pets, woodworking... whatever.
Goodbye, Mom
Like her art, my mom's life was full of beauty, contradiction and complexity.
Today we held a memorial service for my mom, at which I delivered the eulogy below. Special thanks to Alex Newman, Amy Eisman, and Rose Engelland for the feedback they provided as I worked through putting this together.
It's been 78 days since my mom died… one more day than the years she lived. On each of those days, I've made a conscious effort to conjure different memories of her.
It's not hard, of course — there are so many. Some come from enjoying her paintings, seeing photos, reading letters, or listening to saved voicemails. But still, I've tried to think back to moments I've not considered for a long time.
I remember her teaching me the secrets to a good pie crust (don't overwork it). Or how to clarify butter when making chicken supremes — my favorite dish as a kid. I can still smell the beef stroganoff she'd serve at dinner parties, which I'd crash in my footy pajamas. After being sent away, I'd hide out on the stairs so I could listen to Stan Gregory's stories.
I'll never forget sitting in her office at the medical school, playing with her artists' supplies, ever in awe with what she was able to create with them. She'd explain how to draw a face — eyes in the middle of the head, not at the top, the tops of the ears are aligned with the eyes, and so on — and then I'd make a mess of it while she'd draw a person in perfect repose or a horse in mid-gallop.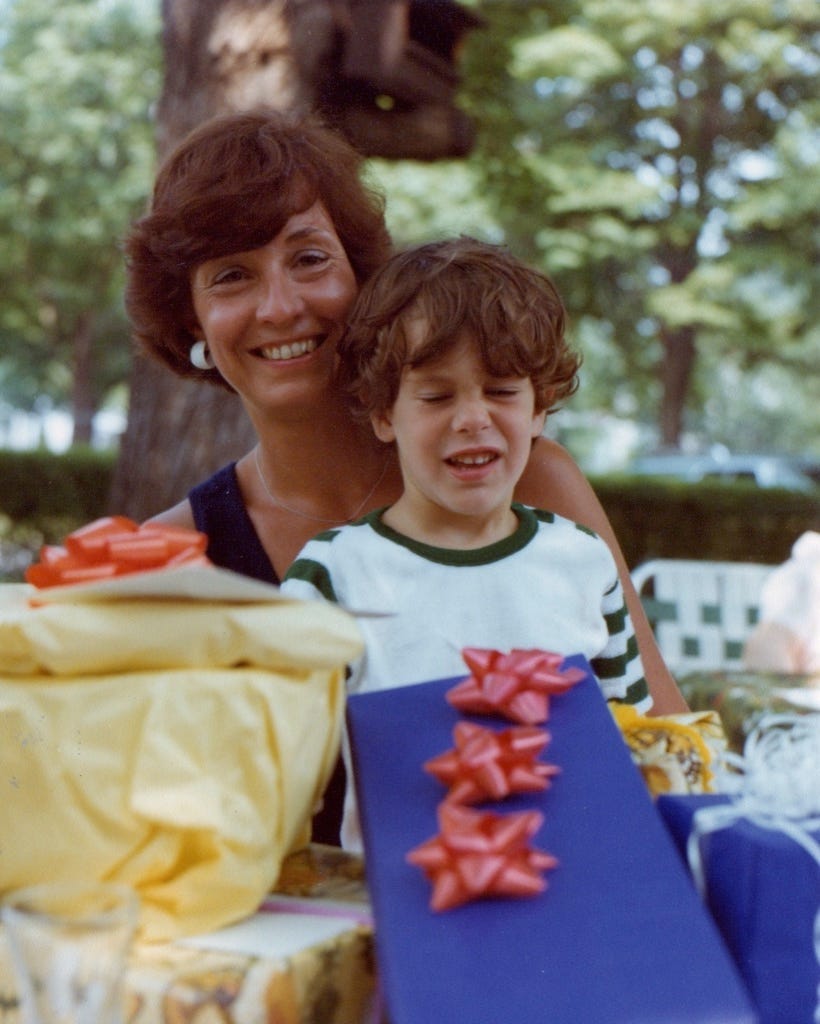 Me and my mom on what I think was her 40th birthday.
Some of the memories are amusing. There's the time she got me on April Fools Day when she called to say my grandmother was dating. Or her dislike for my first car — it was too small, she feared. And too old. She claimed it suffered from some mysterious syndrome she called "metal fatigue." Other memories are of slightly maddening moments, like when I'd sit down to watch TV, only for her to decide that was the perfect time to practice piano — in the same room as the TV.
Oh, there's the time when I was five or six and she power-grabbed my arm and frog-marched me into the Kentwood Restaurant to return a Peppermint Patty I hadn't paid for. Years later in Paris, when some cops fined her 200 francs (which she didn't have) for illegally smoking in the subway, I briefly considered payback. Instead, I paid up and never let her forget it.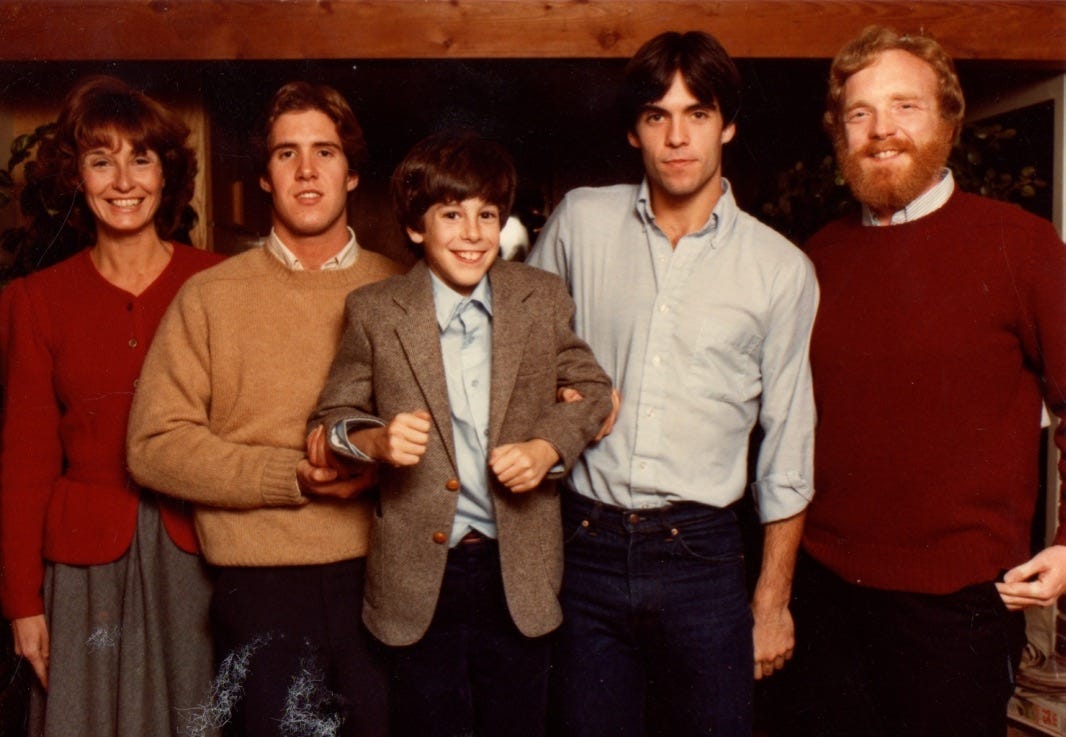 My mom, my brother Mark, me, my brother Steve, and our dad, Tom, posing for a Christmas card photo.
In reality, most of the memories are mundane — her enormous set of keys; her family whistle; her mangling of people's names — but that's also what makes them so important to keep alive. They are the details that complete the portrait.
My earliest memory might be her singing a lullaby to me when I was just a few years old. She'd sing along to a Brahm's melody, "Go to sleep... close your eyes… close your eyes and go to sleep" and I'd lie in her lap getting increasingly frustrated. "It doesn't work like that!" I'd say. I was stubborn, which I got from her. And now I've handed down that stubbornness to my daughter. Payback, I know.
More recently, I remember how that stubborness kept her from letting cancer dictate her life. During an early meeting with her oncologist, she described some of her goals: to see her granddaughter Jane get married; to see her granddaughter Lucy graduate college. To continue to paint and ride Leo. She accomplished those and much more.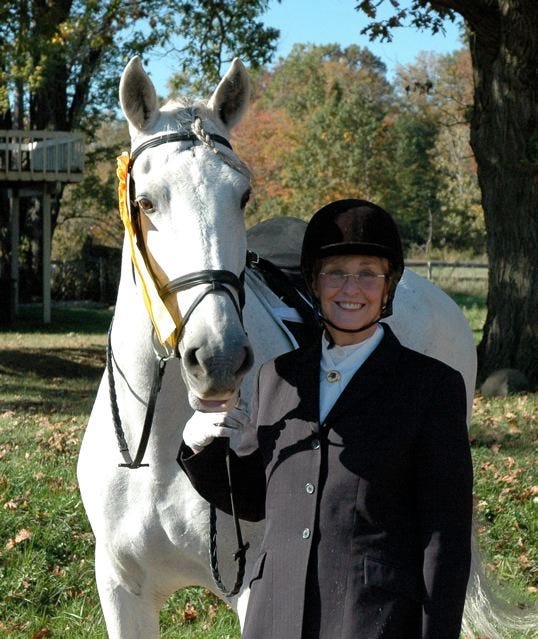 My mom and her beloved horse, Leo.
My mom persevered for three years after that visit. She didn't like to say she was fighting cancer or battling it. That language was too militaristic. She simply tried to push past it. I actually think she was offended by her cancer and did her best to deny the effects it had on her life, even though they were undeniable. Even in her final days, she lamented being too tired to do things, but rather than blaming her illness, she'd call herself a "blob," as if she had no excuse.
It was ludicrous, of course, but she was always proud of her health and all that she accomplished in a day. She was annoyed at the way the cancer sucked away her energy, limited her days and stole her years. She had things to do. Lists to finish. Thank you notes to write. Music to play. Concerts to attend. Horses to ride. Dinners to cook. Paintings to complete. Friends and family to spend time with.
She always said she wanted to die at her easel and she very nearly did. She had been painting in her final days, and when I saw her for her birthday, she was eager to show me the paintings she had just finished, as well was ones she was just starting. The last day I saw her, she practiced violin and began reading a new book. She was not done with life.
And what a life she had. Filled with adversity and accomplishments, faults and virtues, poor decisions and great ones (none better than marrying Tom), she oversaw an expansive and loving family as well as a vast network of friends, including I-don't-know-how-many young people she "adopted" — especially after my brothers and I had all left home. After raising three sons, I think she was desperate to be in the company of girls. So, thank you all for giving her that.
It's impossible to separate my mom's life from her art. As you all know, her paintings were primarily in the Impressionistic style, which seeks to capture a feeling or experience rather than to achieve a perfectly accurate depiction of reality. And I don't think that way of seeing the world was limited to her studio.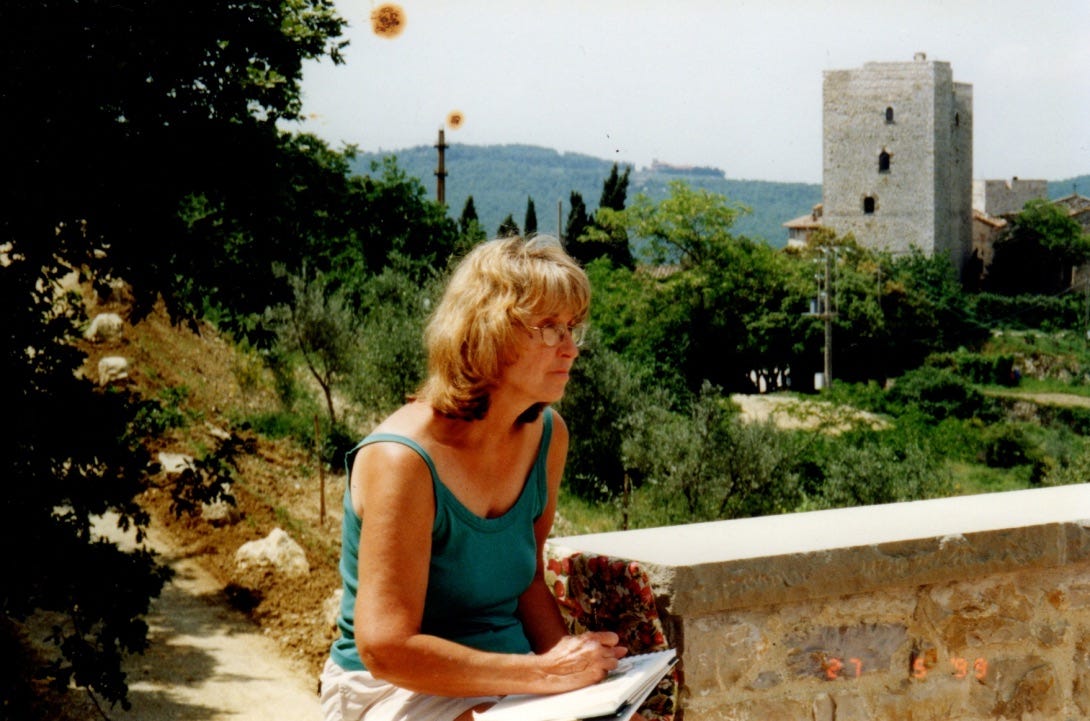 My mom loved to travel, but never went far without her sketchbooks.
Over 77 years, she constructed a life — like her paintings — with attentive, intentional strokes. As with her art, she had very certain ideas about how that world should exist and, to use Tom's word, the standards it demanded. Pillowcases should be ironed. Music should be Classical. Say "pardon," not "what." Never, ever, use margarine.
The world of her construction wasn't always well-aligned with the reality others lived. She'd call me in the middle of a week day and ask, "Hi honey… what are you doing right now?" And I'd answer, sometimes ungraciously, "Well, I'm at work, mom…" Or she'd plan a two-day visit and then list the 10 days worth of activities she wanted to do during her stay, adding "and hopefully you can just relax." Then she'd show up with her Suburban filled with half of her studio and enough food to last two months.
Seeing the world from other perspectives wasn't her strong suit. But she more than made up for it with her generosity and caring nature. She opened her home to anyone and made sure nobody ever left her house hungry. When repairmen came, she always provided them lunch. Mom and food. I don't know if she ever visited me without a platter of stuffed cabbage leaves or homemade soup. Or, come to think of it, a bottle of Sky vodka — although I think that was just part of her travel kit.
In her studio, she would sometimes take a painting she had started and didn't like and would layer fresh paint on top to construct an entirely new image, leaving the old one lurking under the surface. She did that in her world, too. In the end, with my dad's unending support and encouragement, she constructed something close to her ideal life and invited everyone to share it with them.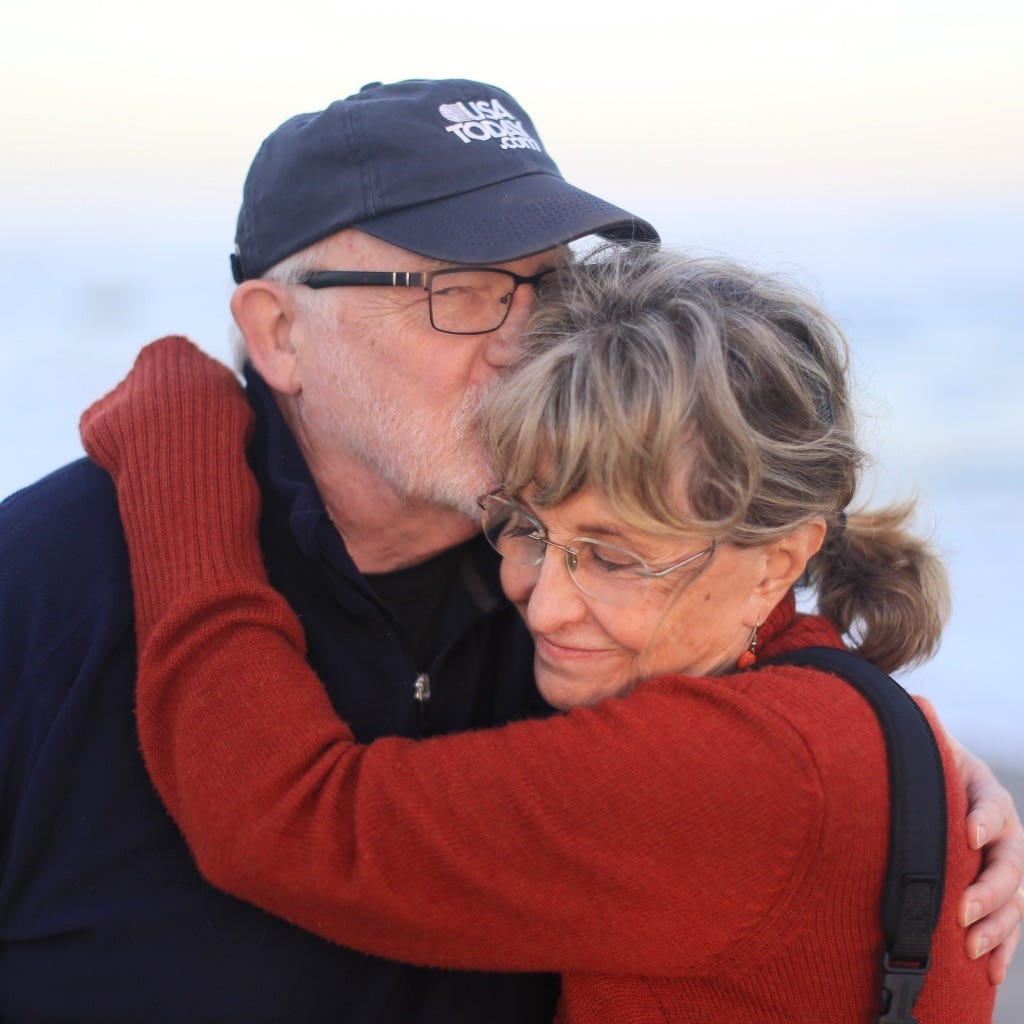 My mom and dad at Assateague Island in November, 2015, just after her diagnoses, but before treatment.
I know how much she craved that my brothers and I would join her there. And I always felt that she was slightly disappointed that we didn't embrace her interests or perceptions as fervently as she held them. But we had our own canvases to work with.
Of course, I had to learn to accept my mom for who she was, too. Parents and kids are each others' toughest critics, and I'm no different. But what I've come to appreciate is that just as the errant brush strokes or embedded bristles or hidden layers of an old composition are part of what makes a piece of art unique, complex, and worth treasuring, so too are one's life experiences.
One of my most-cherished memories of my mom also hangs on my office wall. A few Christmases ago, my mom was eager to give me her present and reached behind the couch to pull out a painting. She had given me a few works over the years, but this one was different. Knowing that I was a fan of Mark Rothko, who's style is nothing like my mom's, she had re-created a version of one of his iconic — and one of my favorite — works. It's unlike almost anything she's painted before or since, not just because of the style, but because of the way she was using it to connect with me.
Looking out into this audience, I see my mom made lots of those connections. She was better at it than most people I know. She created a world filled with friends and family, art and music and excellent cooking. She had a love of life that came from having lived a full one and we all were better for it. She loved us and we loved her, and the trail of memories she leaves us with — many hanging on our walls —  ensures that she'll remain forever with us.