Discover more from Hatchomatic
Musings on life, travel, pets, woodworking... whatever.
Can't go home again
A few months ago I realized I had reached one those "turning points" in a person's life. This one was when I discovered I lived more of my life away from my home town, than in it.
In other words, after spending 18 years in and around Kent, Ohio, I finally realized I had spent more than that elsewhere (mostly the Washington, D.C., area). And while I remain loyal to the teams of my youth — the Browns and Indians, primarily — my home town had mostly faded from memory.
In the 20 years since I moved away, I had visited downtown Kent perhaps two or three times. And since I left before I reached legal drinking age, my trips into Kent were rather infrequent even when I lived here.
Today, though, my dad drove me around the town to show me how much had changed — and how much stayed the same. A new bridge, for example, rerouted traffic at the outskirts of town, but the old florist shop still stood sentry along State Route 43.
On the main drag, though, everything was changed. The old pharmacy was now a tattoo parlor. The travel agent was gone, replaced by a soup shop (and a damn good one at that — Zoupworks). New buildings were being erected. Old ones were being renovated. Tattoo parlors were multiplying. Memories returned.
One blast from the past was the old Kent University Theater anchoring the corner of Depeyster and Main.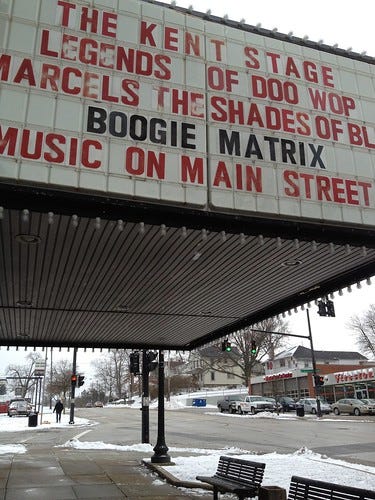 Man, I remember this theater. My brother worked there as an usher when he was in high school. He let me sneak in to watch a Three Stooges Marathon. I also saw several James Bond films here.
Now it's a performance venue, attracting acts ranging from The Black Keys (from nearby Akron) to, well, the legends of Doo-Wop.
Continuing around the block I spotted the old Victorian house where my orthodontist practiced her special form of torture. Down the street: the small, bald Dr. Lang, my pediatrician. Instantly I was transported to his little waiting room with used issues of Highlights. I smiled as I recalled my stubborn refusal to flinch when receiving a shot.
Around the corner appeared the old grain elevator, still in operation today.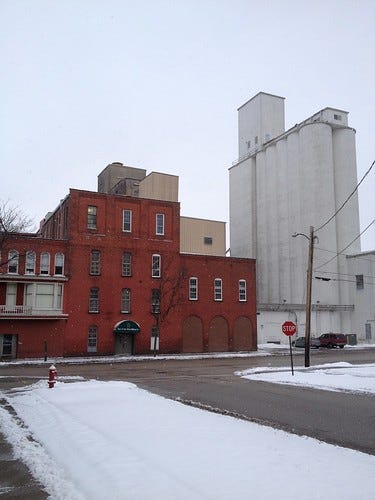 When I was a boy, I remember two guys staging a sword fight on top of the building. It was, as one might expect, front page news the next day. (Today it would be sooo all over Twitter.)
Heading back to the car and protection from the 20° wind, I past my first bank, Huntington National. Possibly the ugliest building in town, thanks to its turquoise "windows" topping the granite façade, it nevertheless has a stunning mural inside, painted by the late Elmer Novotny, once the head of Kent's school of art and a longtime family friend. (When I was young, I used to think of him as my grandfather, since I had none of my own. I'm quite certain, though, that he had no interest in reciprocating that illusion.)
In any event, I peered through the bank's window and saw the mural: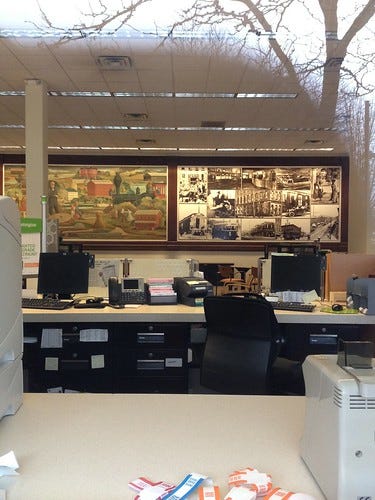 Admittedly, the painting is more impressive in person, but since the bank was closed and I didn't feel like risking a felony conviction just to get a better picture, this will have to do.
His style is somewhat reminiscent (to me, anyway) of that of Ben Shahn. As a kid opening my first checking account, I remember standing in the giant lobby and taking in the mural.
Anyway, it was interesting to wander through a place that is both full of memories and completely changed. I suppose the same could be said for any relationship that is measured in decades.