Discover more from Hatchomatic
Musings on life, travel, pets, woodworking... whatever.
Back to the Mac
Yesterday I wrote a brief post about using my iPad for a day instead of my Mac laptop, as I left the latter at home by accident. Today it was back to my Mac — thankfully. The iPad is certainly usable for a day of work, but it's not ideal. The main problem I have with the iPad replacing the Mac is that it takes much longer to accomplish the same or similar tasks on the iPad compared to the Mac. A good example of that is in writing an email that pulls content from other sources. If I want to grab quotes from multiple emails, for example, I have to save drafts and shuffle between mail folders and screens such that the effort is so great as to make the endeavor not worth taking. On the Mac, though, I can perform similar actions in a tiny fraction of the time with a few clicks of the mouse and some keyboard shortcuts. So, what is the iPad good for? If the iPhone is perfect as a personal communicator — quick emails, texts, looking up information, small games, etc — and the Mac is the workhorse — that is, the tool I use to "get stuff done" — where does that leave the iPad? It's a question I've wondered since the iPad's initial introduction. I had resisted buying one, but finally gave in after the iPad 2 came out. It turns out I don't use it that much. Mostly, I like it for surfing the web and reading/sending email from the couch, showing people photos, watching Hulu and other video, playing some games, and reading books the New Yorker. That said, there are a few other apps that come in handy and are worth highlighting. One of them is called PDF Expert. This is a great tool for handling PDF files from your iPad, although a bit pricey at $10. For example, imagine receiving a PDF form in an email. The form needs to be filled out, signed and returned. With PDF Expert, all of that can be accomplished on the tablet.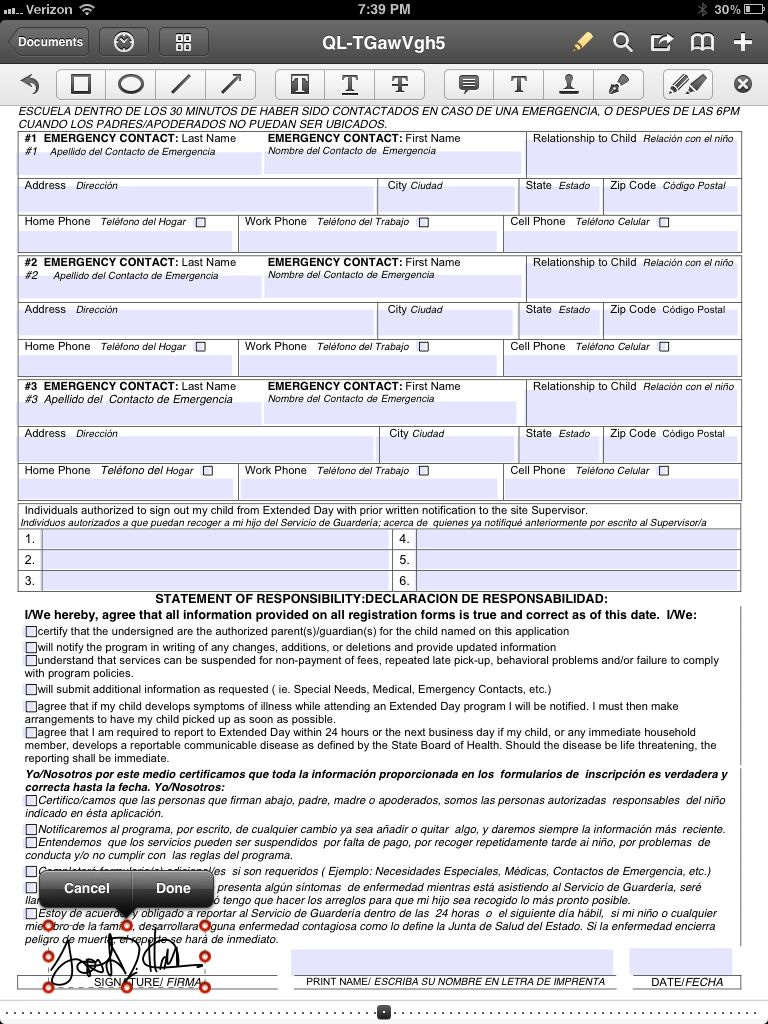 Much depends on the structure of the PDF itself. Some PDFs are smartly built with text fields, buttons, pull-down menus and more. PDF Expert handles those with ease. But, even PDFs that aren't so constructed can be handled with the app. Users can add their own text fields, draw boxes, check marks and such.
And, taking advantage of the touch screen, users can also add their signatures to the PDFs — perfect for signing forms without having to print them out and — gasp! — fax them.
Anyway, this is one app I find worth having and that takes the iPad beyond the normal ways I use it. In future posts I'll highlight other worthy apps.